Only $1 for your first month
Love Magic? Creating Miracles
Just Got Easier...
Does Any of This Sound

Familiar?
You would love to perform astonishing magic, but you don't know where to start or how to turn your dream into an actionable plan...
You've spent countless hours trying to master techniques and build your routines, and you're sick of wrestling with secret sleights and unhelpful training......
You've got some experience, but your magic isn't going as well as you'd like, and you're out of ideas for how to kickstart your progress and get the crucial momentum you need to start making miracles...
If it does, then you already know what a minefield it can be trying to get practical advice & support
That's why we created
CC Club: The World's Best Magic Club!
We were fed up with hearing stories about good people with a true passion for magic, just like you, being left stuck and let down in their pursuit of amazing magic, thanks to:
Unqualified Instructors who promise the world but deliver very little...
Magic Dealers who offer the 'next hot trick', but don't offer tested tricks and practical methods that help you succeed...
Training that shows you WHAT to do, but fails to show you the exact steps you need to turn your dreams into reality...
Thankfully, all of that is behind you...
CC Club is Your Essential Resource For Training, Expert Advice, and Support you need to Create, Perform and Grow Your Magic to Astonishing Heights...
Being part of CC Club enables you to:
Master practical miracles that you love to perform, so you can astonish any audiences, under any conditions
Develop any and all new skills and you want to master on YOUR schedule - in the most effective, supportive learning environment ever created for magicians.
Get personal coaching and guidance on virtually any aspect of your magic from the world's most trusted team of magic instructors.
Create or grow your own business performing the magic you love with the world's only modern marketing training built exclusively for professional magicians
"CC Club is the best magic community I have ever been a part of (and I have been in a few).  Not only are all the effects taught in detail by expert magicians, they are all Classic Effects!  These effects are so strong, you can use them anywhere... to amaze anyone. Club CC's Marketing Plans are pure gold!  These are the hidden secrets about promotion and marketing your own magic business that NO ONE ELSE will tell you.  You are walked through each part, step-by-step, in detail, and once finished you will have a professional online presence in order to generate more business!  This stuff really works!"
Christopher Harrop - Pro Magician
Here's a summary of what you get from
CC Club:
24/7 On Demand For Magicians!
As a Club Member, you'll get instant, ON-DEMAND access to our entire library of 38 step-by-step Video Training Plans. You can use these "Amazement Plans" to tap into practical miracles, cutting edge training and proven professional routines covering any type of magic you can think of. Here are just a few examples of the plans you're about to access…
In-Depth Video Training Plans
Our extensive library of Video Training Courses provides the world's most effective practical training on magic with cards, coins, mentalism, stand up magic and more. You name it, we have it.
Live Online Expert Workshops & Lectures
Weekly Live Online Lectures from your favorite magicians and guest experts ensure you're always up to date with powerful new effects, strategies & real world techniques
The Most Supportive Community
Get advice, feedback, motivation and support from an active community of passionate magicians and expert coaches who will keep you on track
Attend Monthly Online Q & A sessions with our expert team, where we answer all your burning questions on any, and every aspect of your magic.
You can even come onscreen for personal coaching and feedback from our team of expert instructors.
Exclusive Access to the Member's Only  'Back Room'  - Packed full of 80+ Lectures, Workshops, Special Events, and Coaching Sessions.
No other magic site can offer 24/7 streaming access to all your favorite tricks, routines and Special Workshops!
Want to go pro? Or just want more performance opportunities? Our Video Marketing Training Plans were built with magicians in mind - and they'll teach you everything you need to know to build, or grow, meaningful income from performing your magic by using the most powerful online marketing resources available today.
"I have been doing magic for ten years... and with my son for about the past five years. In just a couple of months at CC Club have learned more than with 10 years of 'everything else'. I'm now learning really great techniques that will serve me for life . Thanks a million Conjuror Community!"
Mike Sprowl - Club Member
"Adam and Aaron speak from experience. I've learned more about performing and marketing my show in the last 3 months than I have everywhere else.  Conjuror Community is leading a brave new world in magic. This is no regular magic club... CC Club sets the bar very high! It is the best investment you will ever make in your magic career!"
Jay Waters - Club Member
Take a Look Inside the CC Club...
CC Club is full of in-depth, practical resources on all areas of planning, developing, performing and perfecting your personal approach to miraculous magic.

Training on a wide range of essential skills, strategies and techniques to make your magic a success, including:
How to build your own no-fail routines - using tricks you already know!
Techniques for choosing the ideal material to move your magic forward...starting exactly where you are right now.
A curated goldmine of the most practical miracles and to-the-point expert trainings ever offered.
In depth workshops on professional grade close-up, stand-up, mentalism and more.
How to stop 'working' on your technique, and start making practical, easy-to-master techniques work for you!
How to use online tools and free marketing resources to grow your income as a professional magician - starting right away.
If you'd like to see our complete course library, click here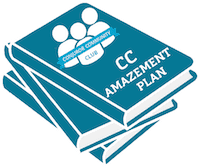 Video Training Plans
Step-step instructions, Training Exercises, Routines and more to help you to master and deploy the magic you learn.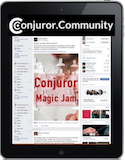 Be Part of Our Community
Ask questions, request feedback, get help with magic issues, discuss challenges and celebrate your successes with your fellow members and the Conjuror Community team of experts.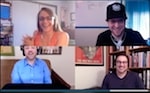 Live Lecture Archive
Regular Live Training Calls, Special Guest Workshops, Member Q&A's and Feedback Sessions - with access to the full archive of past Club Events in our CC 'Backroom'.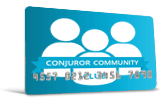 Member-Only Resources
From exclusive freebies, handy tools and downloads... to member only perks, offers and discounts.
Get Instant Access
to the Club!
If you're ready to take your magic to the next level by enrolling in The World's Best Magic Club, simply click the button to join us... for only $1.
Only $1 for your first month
"There is no better place to hang out if you love magic. Each week you get tons of new ideas and magic lectures to choose from... and all the material is vetted so i know that I'm only getting the best material. This is a truly fast way to progress!"
Jeremy Ward - Club Member
"Just finished the "One Monte to Rule Them All" event. Great in every way. Worth the price of membership right there. Steve Barcellona presented an incredibly engaging routine, and explained it clearly and cleanly. And Aaron Fisher put some fine polish on some of the moves. If you missed it, you missed out. Thanks for a great session."
Brian Peckham - Club Member
Hi, we're Adam Grace and Aaron Fisher - Co-Founders of the CC Club
With a combined 50+ years as professional performers, authors and hit trick inventors, we've performed thousands of magic shows for every type of audience - and been honored to help over 50,000 passionate magicians transform their dreams into reality.
This year, we'll help over 100,000 magicians just like you achieve fantastic results in every aspect of magic through Conjuror Community and Flagship University Style Training Programs like our Miracle Man Method and the Pathways Training System.
Whether you want to create a full time business performing your magic, or just make miracles that astonish and delight anyone who sees them - we're driven by a passion to see you succeed!
"I just won first place at my local IBM ring contest! A year ago I would have never believed that could happen!"
"They've helped me create a great business performing for weddings and corporate events… in under 12 months!"
"I just got back from my first restaurant gig. It went so well the manager is hiring me for more!"
30 Day No Questions Asked Money-Back Guarantee
When you join the CC Club, you are fully protected by our 100% Satisfaction-Guarantee. If you don't feel like you've received value and you decide you want to cancel any time within the next 30 days, just let us know and we'll send you a prompt refund. No hassles, headaches or questions.
We're so confident that you'll find the CC Club useful that you have 30 days to change your mind. We won't make you beg or invoke any silly rules or conditions – if you're not satisfied within your first 30 days then we'll refund you without any fuss.
Frequently Asked Questions
So, you have questions? Let us try to answer them for you...
I'm a beginner, will CC Club be right for me?
Absolutely – CC Club covers every stage of perfecting, creating and growing your magic – from the very start where you just have some ideas and nothing more. In fact, now is the perfect time for you to join; not only do we have training that will show you everything you need to succeed, step-by-step, you'll also be able to get support and advice from within the community to help speed you on your journey.
I am already doing well with my magic. What will CC Club do for me?
Assuming you want to keep growing your magic then CC Club can help you fine tune and perfect every aspect of your routines, sleights, and tricks – and help you to identify and achieve your future goals. This is certainly not a "beginners only" community – far from it! We've helped magicians grow into amazing performers and help passionate magicians of every skill and experience level, so we have the expertise and knowhow to ensure your continued growth.
Do I get access to everything as soon as I join?
You get access to everything already inside CC Club straight away! No waiting for content to be released to you – just jump in and access our complete training library right away. We release new Video Training Plans and Live Events every month – so you'll always have plenty to of up-to-date trainings to access in your member's area.
Do you add new magic to the club frequently?
We add new courses, live events and Video Training Plans regularly, so you'll never be short of something new to learn!  And with 4 to 6 new live workshops, lectures and master classes each month, there will always be something interesting and new waiting for you when you log into the CC Club. We have a wealth of great courses planned and no end in site of all the different trainings that we could do – plus you have the chance to put forward your own ideas for courses too if there's something you really want to see added.
Can I get one-on-one help with my magic?
Not only can you ask questions and get advice, support and feedback from within our community; but we also run Q&A sessions, where you can pre-submit your questions, or even ask them live. We also have member jams and mentorship sessions, where we'll provide feedback on your ideas, tricks, or anything else you'd like our input on. There is also a thriving community on Facebook where other CC Members are willing to help you with just about any magic question you can think of.
What if I don't enjoy Club CC?
We know you will LOVE it, however, if for whatever reason you're not 100% satisfied in any way we have a 30 day money back guarantee (no questions asked). We want you to succeed, and know that if you become a member and really want to grow… you will see amazing results!
What happens if I decide to cancel my membership?
Obviously we'd love it if all of our members stuck around forever – but we've been around long enough to know that that's never going to happen! So, if you do decide to cancel obviously we'll be very sad, but if you're intent on leaving, then you'll be able to do so easily.
However – we recognize that sometimes you may not want to leave, but perhaps the timing just isn't right for you. Maybe something has come up in your personal life, or your magic has had to be put on hold and you just can't justify paying for something that you know you'll not be able to utilize for a few months.
To address that, we actually have the option for you to pause your membership, for however long you need to. Then when you're ready to return, simply come back and resume payment to reinstate your access. Simple!
"CC Club is a group that brings together magicians of diverse interests and skill levels to learn from each other. Its like having your own private mentor, like the days of old.  You don't just learn skills and help raise the bar of your performance to new levels... but you also learn to navigate the world of modern marketing, social media and the plethora of marketed magic. This is a group who supports and pushes each other to reach their goals. CC Club has done more to help me develop my skills, my performance, and my love of magic than any other resource I have ever come across."
Loren Findlay - Club CC Member
"I joined and saw the value immediately. With all this great material and top notch training on the routines, I am always one click away from exactly what I need! No other site or magic club can even touch Conjuror Community. They are setting the gold standard for what magic should be in the 21st century."
Donny Johns - CC Club Member
Get Instant Access
to the Club!
If you're ready to take your magic to the next level by enrolling in The World's Best Magic Club, simply click the button to join us... for only $1.
Only $1 for your first month