If you LOVE magic and want to share it with people (and you don't have years to waste doing everything the hard way), it will be a big help to you if you can pick up some BIG lessons FAST. Here's a quick case study to help you save some time learning what YOUR audiences care about
(because in some ways, ALL people care about the same things—and MANY magicians have a hard time SEEING what those things are)
In this exciting, inspiring video, Margot Robbie shares her journey into the secret world of 'pickpocketer' for her starring role in the film Focus.
You'll get to hear both Margot AND Apollo talk about the process, and as you do, you'll hear BOTH of them talking about the aspects of magic that excite and energize ALL audiences the most. The video is so much fun because you get to watch storytellings talk about what excites them. And what is that?
STORIES!!!
As you can see, sleight-of-hand can be fun—even exciting. But what TRULY excites these artists—and all people—are the fascinating stories, exciting ideas and mysterious worlds they get to explore.
Apollo's skills are TRULY astonishing—but as you'll discover if you see him ANYWHERE…Apollo uses Powerful Stories, Exciting Ideas and Human Relationships to fuel every talk, performance or presentation he gives.
Even if you can't watch his CC Lecture, you CAN use that lesson starting RIGHT NOW.
Apollo Robbins' journey into becoming the world's greatest performing pickpocket wasn't a straight path; it was a thrilling adventure that evolved over time. Inspired by other stars of magic, Apollo started learning the craft of magic.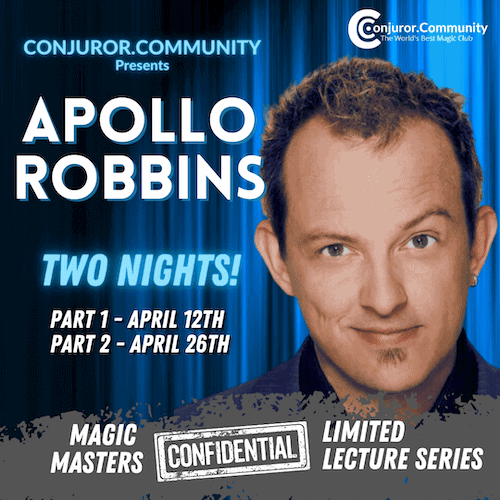 Join us LIVE Wednesday April 26th at 10PM Eastern—AND watch BOTH Full-Length Action Packed Events as many times as you want through May 8th!
CLICK HERE to Get Your Tickets
As he grew up, Apollo had childhood experiences where he was exposed to  adrenaline-pumping, crime-related situations. For that reason, he understood earlier in life than most of his fellow magicians that there's a BIG difference between failing at a 'magic trick'—and getting 'called out' in the midst of a crime.  
Hint: Failing at a magic trick might result in someone calling you out, but with pickpocketing, the stakes are MUCH higher. Even in the middle of a performance, if a person 'catches—or even senses—what you are doing, they react intensely, or even dangerously. Apollo noticed aspiring pickpockets on the streets faced risks far greater than those in traditional magic.
Everything changed when Apollo landed a gig at Caesar's Magical Empire. Tasked with stealing from four audience members during each 10-minute performance, Apollo found himself in a unique "conveyor belt" situation, where every 10 minutes, a new group of 24 people arrived. This intense repetition allowed him to practice his art, six times an hour, 24 people an hour, five hours a night, five nights a week, for five years. It was a lot of people and a lot of "flight time."
In this high-pressure environment, Apollo's act blossomed. He began to experiment, pushing his limits and trying new, daring feats – even when faced with language barriers. From stealing belts to swiping glasses, he continued to innovate and evolve his craft, transforming into the legendary pickpocket performer we know today
Apollo Special Podcast
In this episode, the CC Gang chat about the very latest in the world of Magic books and then follow us backstage as we talk about our recent shows with our April Artist in Residence Apollo Robbins!
Apollo Stops Time
Magic Masters Confidential: A 2 Part Limited Series
Two Full-Evening Living Room Lectures—each filled with the Miracles, Methods, Secrets and Stories of a Master Magician.
IMPORTANT: Every Living Room Lecture that happens while your CC Club Membership is active will be downloaded to your account for as long as there is an internet!
CC CLUB PRESENTS…
APOLLO ROBBINS!
Magic Masters Confidential: 2 Part Living Room Lecture Series
Part One: April 12th – Foundations of Improvisational Misdirection
Part Two: April 26th – Attention-Based WTF Miracles!
Get ready to dive into a mesmerizing world of deception and wonders, as the world's most renowned performing 'pickpocket,' Apollo Robbins, shares secrets, insights and miracles he was FORCED to create in order to amaze and delight under the 'challenge conditions' his one-of-a-kind performance demands. You'll join us for an exclusive opportunity to discover the secrets that power the miracle class effects we ALL dream of performing.
Part One: April 12th – Foundations of Improvisational Misdirection
Learn how Apollo's astonishing real-life story led him to develop a groundbreaking approach to 'attention management' technology (or as we often call it, 'misdirection'!). As you'll discover, Apollo was forced to develop wholly new methods and a new kind of magic. In Part 1, you'll get all the juicy details—as Apollo helps us build the foundation we'll need to master the miracles to come in Part 2.
Part Two: April 26th – Attention-Based WTF Miracles!
(Wildly Triple Fantastic!) Embrace a radical new approach to attention-management you can harness to create the kind of miracles ALL of us dream of performing. Apollo will perform, share and teach hand-picked miracles designed to unlock your own Attention-Based Miracles anywhere—at any time. Get ready to unleash the kind of miracles that no master has ever been willing to truly share…before now!=
This truly is a once-in-a-lifetime chance to learn from the VERY best and  unlock YOUR true potential—no matter what kind of magic YOU want to perform. With Apollo Robbins & CC in your corner, you'll be well on your way to astounding audiences—and leaving lasting impressions like never before!
Want to get Lifetime Access to these groundbreaking miracles for free?
CC Club offers you unprecedented access to the world's greatest magic creators, performers and coaches—and the most supportive, rewarding environment ever created for magicians.  When you become a member of CC Club, you'll unlock a new universe of exciting ways to discover, share and save tons of money on magic you love.
It all starts with our next Magic Masters Confidential Living Room Lecture—as a CC Club Member, you'll get LIVE ACCESS  & keep it forever!
What makes a Conjuror Community different?
Some magic companies play pre-recorded videos and call them "live lectures"—sometimes they even call them "classes"—only to sell them at a deep discount within a couple of weeks.
At Conjuror Community, we take a different approach. Our CC lectures are unique and special because our artists share secrets that they don't share anywhere else. That's because our club members respect and appreciate those artists as much as we do.
For that reason—you will NOT find this once-in-a-lifetime training experience for sale next week—or in coming months—at a 'deep discount'.
Starting next month, Conjuror Community's Apollo Robbins Limited Series will only be available to CC Club Members. If and when we do sell lifetime access to these events again—the price will be at least $100 or more (and well worth it!).
But during our Special Apollo Robbins Celebration, you can have Lifetime Access to both of our once-in-a-lifetime Apollo Robbins Living Room Lectures…for FREE.