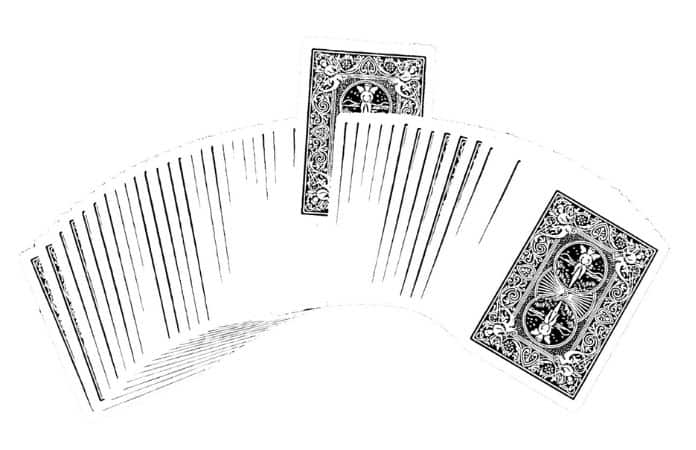 The Ambitious Card Routine is perhaps THE most popular card trick among magicians. It's an effect that has been refined and perfected over decades, and audiences LOVE it.
Over the years, there have been hundreds of different presentations and methods devised to perform the ambitious card trick. The only question is, which one should YOU learn?
Well, in this blog post we're going to show you our favorite ambitious card routines (ACR), and how you can go about learning this classic trick.
Best ACR Pick No.4: Michael Ammar
---
Michael Ammar has been performing great card magic for decades, which means he's had years to refine and put the perfect finishing touches on his personal Ambitious Card Routine. And when you watch this video, you can really tell. He handles the Ambitious Card sleights so smoothly, you hardly notice they happen even if you KNOW what's going on.
See for yourself when you watch this:
While the 'popup' move that occurs during the finale to this trick has since become very popular among magicians, I'm of the opinion that it's rare to find someone who can do it as smoothly as Ammar. If you yourself perform the popup move – take note, this is how it should be done.
Did you know?
Michael Ammar came to Conjuror Community for a landmark live lecture. This lecture lasted nearly X hours, and Michael took the time to both perform his Ambitious Card and tip some of the subtleties and techniques he's picked up over hundreds (maybe thousands!) of performances.
https://club.conjuror.community/living-room-lecture/

This training is only available to CC Members, but you can use this link to join CC!
Best ACR Pick No.3: Daryl
---
The late and great Daryl's Ambitious Card is one that many of us will have grown up watching and aspiring to one day learn. It's incredible to watch…even if you think you know what's about to happen (often, Daryl will STILL manage to surprise and fool you). I especially enjoy the finale Daryl pulls off – it's presentation I've never seen performed before in the Abititious Card Routine. And even better, it completely fooled me the first time I saw it (and to tell the truth, it still does!)
For me, this routine is a perfect example of what card magic at its very finest looks like.
Watch this:
While Daryl's Ambitious Card is taught via a standalone product, you CAN learn a lot of Daryl's best work from these two books, widely agreed to be some of the best in all of magic:
This brilliant book holds some of Daryl's best work, including his work on Twisting the Aces and Triumph.


This excellent volume contains more of Daryl's work, including his versions of the 'Coins Across,' classic sandwich routine and the Ace Assembly. This book also teaches parts of Daryl's FISM act!
Best ACR Pick No.2: Tommy Wonder
---
Tommy Wonder's books, The Books of Wonder, are some of the best magic books out there. That's because Tommy's thinking on magic is ingenious and combines subtlety with astonishing 'kickers'…and that's especially evident in his personal Ambitious Card Routine. Although the video quality is a little low, you can still get a very good sense for Tommy's showmanship and skill.
Watch this:
Did you know?

You can buy Tommy Wonder's much-loved books, The Books of Wonder, at the CC Store using the link below:
https://store.conjuror.community/product/books-of-wonder-2-volume-set-by-tommy-wonder/
Best ACR Pick No.1: Your First Ambitious Card Routine
The trouble with Ambitious Card Routines is that there are hundreds of different methods for it. Some of them are WAY too hard to be realistic. Others are WAY too easy to fool anyone.
But what if you could have an Ambitious Card that's BOTH fooling and easy?
Check out this Ambitious Card training plan from our very own Conjuror Community. It's pretty easy to learn, but it always gets amazing reactions. It's fooling AND simple…which makes me just about the perfect Ambitious Card.
This training is just for members, click here to join us today!
A final word: choosing YOUR Ambitious Card
---
Now, in this blog post we've given you some recommendations and ideal places to start if you want to learn a great Ambitious Card Routine. But the truth is, the best Ambitious Card Routine is whichever version feels best for YOU.
It might be one you learn in a book or it might be one you learn online, but it doesn't matter as long as it resonates with your personal performance style and you feel like you can perform it confidently to your audiences.
In fact, what I often recommend is that you first learn the basic moves and components that make up the Ambitious Card (such as through taking the training we offered in our final pick) and mastering them. Then, once you have all the components to choose from – go wild! Mix and match your own favorite Ambitious Card. You can combine one phase from one training with another phase from a different training. Or even better, you can invent your own phase!
That's always a great option since it means you routine has a sense of originality that is hard to replicate, and other magicians with recognize that originality.
So, we hope this helps! You should now have everything you need to get started on your journey to mastering the Ambitious Card Routine. And please do remember – this journey is a marathon, not a sprint. Different people learn the Ambitious Card Trick at different speeds, and so you should just take it at your own pace until you're happy with what you have. And don't forget to get out there and perform! Test your Ambitious Card in action and learn from the experience that comes with performances.
Have any questions? Feel free to get in touch in the comment section down below!