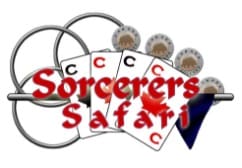 As you may know, many of our Conjuror.Community Experts (Aaron Fisher, Scott Hammell, Mark Correia, Nathan Kranzo) often talk about a magical land at the end of the yellow brick road, which they were refer to as 'Sorcerers Safari Magic Camp'. It's a magic camp for kids located in Ontario, Canada that just celebrated its 20th year anniversary.
I have been fortunate enough to attend camp for the past 16 years. Having attended for so long, magic camp has been a positive force for not only my magic career, but also life in general. As a kid I looked forward to magic camp more than any other part of the year. I met my best friends in the world at camp and even though many of them no longer attend, and live in other parts of the world, we still talk regularly and see each other whenever possible.
That's the beauty of camp friendships – you can always pick up right where you left off quickly and easily. It's a characteristic that few friendships have as you get older, so with each passing year I cherish my camp friendships more and more.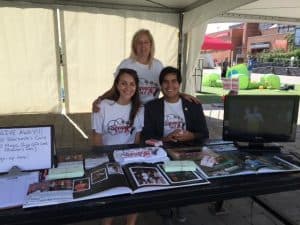 Promoting magic camp and encouraging more girls to take an interest in magic (there's usually a 10:1 ratio of boys to girls at camp), have been passions of mine for a very long time. I volunteer for camp throughout the year, have held fundraisers to send a kid to camp and spread the word at every opportunity.
After seeing what C.C accomplished in less than 24 hours, I have never been more proud to be part of a magic community.
One member suggested we raise money for a camper to attend NEXT year (camp was only a few days away at this point) but that quickly snowballed into an outpouring of donations if we could find someone for this year, and a whole lot of excitement.
Members asked me to help with organization and finding a camper. Knowing how few women magicians there are in Conjuror.Community (and in general), they even suggested we try to give a young girl the scholarship to do our part in evening out the imbalance. A community after my own heart!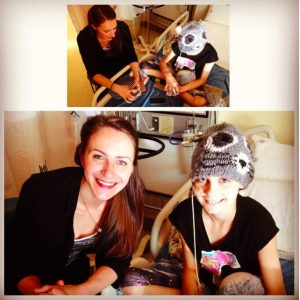 Ella Korostil was the first person that came to mind – I had performed for her when she was staying at SickKids Hospital in Toronto, Ontario, and I had kept in touch with her family. I knew that she was in remission and back up on her feet, and VERY interested in magic. What a perfect fit! To read more about Ella and her wonderful story below.
When I called her mom, Tanya, she told me that Ella was currently away at Camp OOCH and she'd have to get home Friday, then be ready for Magic Camp Sunday. Of course Ella, being who she is, was totally up for it and didn't hesitate for a second.
We wanted to update you all on Ella's week at magic camp, so you could see exactly how far your shares, messages and donations went! Here are some highlights…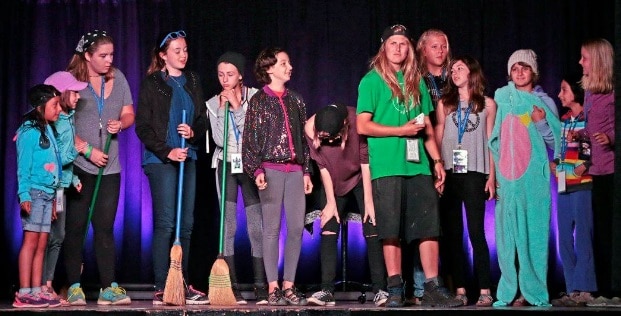 The first night of camp is cabin introductions… there's Ella holding up the blue pajama onesie (promise it made sense at the time…)
Every morning after breakfast the campers go to their respective Card Classes… There is Ella in the wool hat on the right.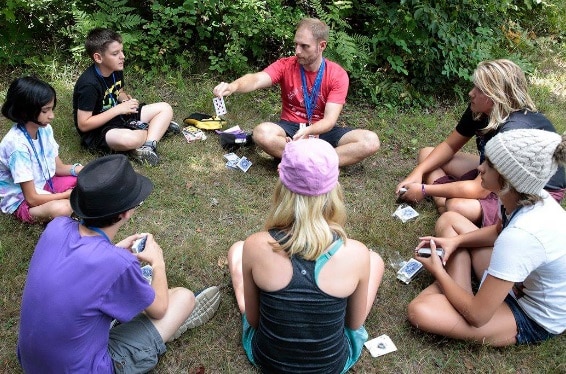 Next up we have Field Activity which changes everyday. Despite not being able to run on her leg (Doctor's orders), Ella participated in everything she could and cheered on her fellow campers!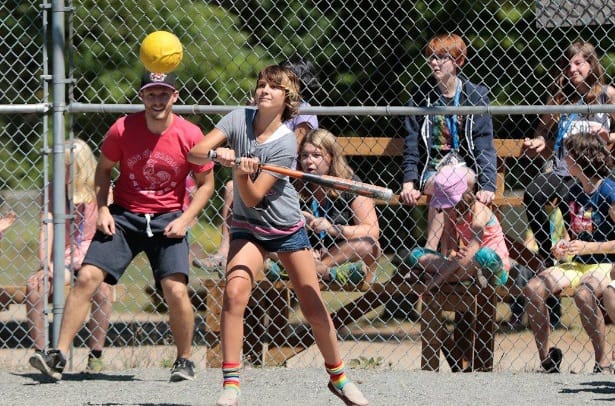 Afterward comes Electives. The kids can choose a different one every day, and this time Ella went to Aaron's Sponge Ball Elective (good choice)! That's her siting to Aaron's right.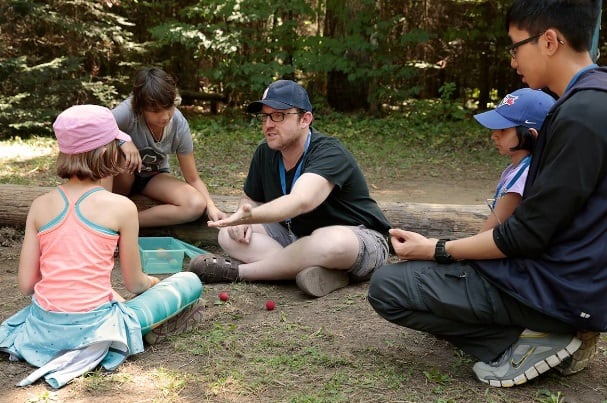 Our new campground, Camp Northland, has a rock climbing wall we were able to use for Field Activity. Ella killed it and had a blast! (That's her near the top)!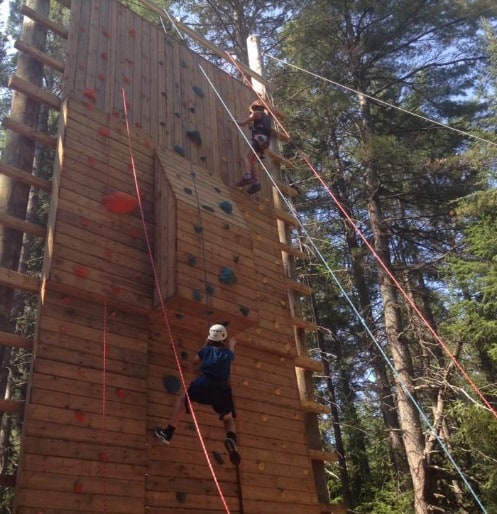 Almost time to say good-bye…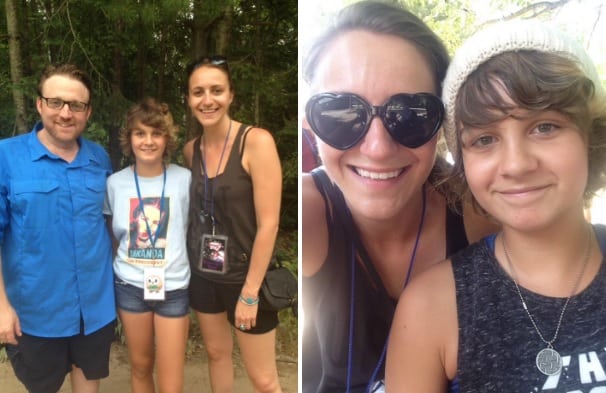 And the traditional last day cabin photo: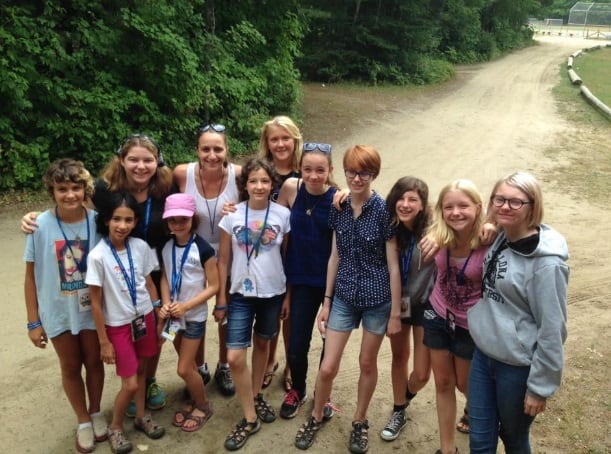 Plus, the yearly Levitation Photo
So Ella came to camp and participated… but what did she REALLY think of her experience? This is a text message I received from Ella's mom just after camp…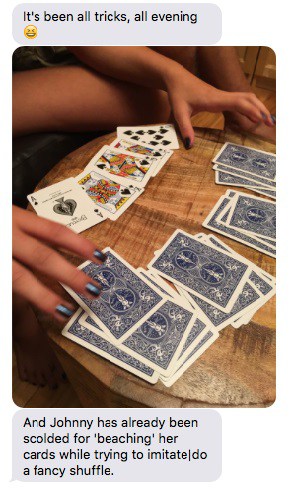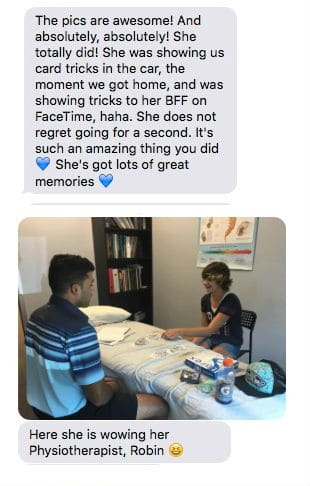 (Beaching someone's deck is when you drop their cards on the ground at camp. Unfortunately, an incident like this is impossible to recover from and does require the opening of a new deck of cards if you ever want that 'new deck' feel back).
THANK YOU!
So, we are giving a HUGE THANK YOU to ALL of our Conjuror.Community Members and blog readers. Without each and every one of you, whether you donated or not, WE would not have been able to send a kid to magic camp this year. The camp experience is an amazing one for kids to have and we are so grateful that we got to give that experience to Ella!
You were all so generous, in fact, that in less than 24 hours we raised over $1600CAD (Camp Scholarship for 2016 was $1300CAD) and are well on our way to sponsoring another camper next year. This donation page will stay open year-round and we look forward to finding another deserving young kid to send to magic camp in 2017! If you would like to contribute, simply click the 'Donate' button, below.
We couldn't have done it without you,Rosemary Reid & the C.C Team.
P.S: If you want an even better idea of what Sorcerers Safari Magic Camp is all about, check out this short and entertaining documentary filmed by videographer and magician Chris Mayhew.
(Please Take a Moment and Share This Story)

---


August 3rd, 2016: C.C Members Come Together... And Send a Kid to Magic Camp!
If you've checked our Facebook Group over the last 24 hours, you may have witnessed one of the most magical happenings we've EVER seen in our community.
Thanks to the thoughtfulness, generosity and initiative of our members, we'll be able  to sponsor a young girl named Ella Johnny Blue Korostil to go to Sorcerers Safari Magic Camp this year. And it is NOT too late for you to join us in making it happen!
We first met Ella last summer when our C.C. Member Rosemary Reid performed and taught her magic during Ella's extended stay at a children's hospital in Toronto, ON.

Ella had been diagnosed with Osteosarcoma - a type of bone cancer - and was bedridden while receiving major surgery and treatment.
She spent over 8 months in the hospital last year.
We are happy to share that Ella is is now cancer-free, mobile, and BEYOND excited to attend Magic Camp from August 7th - 12th, 2016.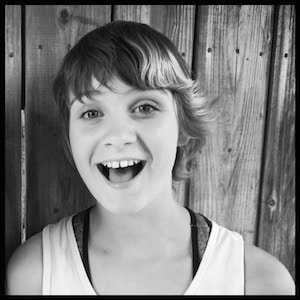 Ella's mom Tanya shared with us:
"Ella has been interested in magic since she was 3 or 4. She loves numbers and how things work and has always loved being able to captivate an audience (me and Johnny [Ella's Dad], friends...) Disappearing arms (tucked in sleeves), card tricks, wands, coins... Her interest and ability quickly surpassed what we could offer so YouTube was her resource. This opportunity is beyond incredible!"
Since this member initiative came about so suddenly, but camp is starting in 5 days, one of our members offered to back the plan so that we could move forward with choosing a camper, letting their parents know and getting them registered.
He felt it was likely many members had not yet even had the chance to hear about this but would be thrilled to donate and did not want the time crunch to prevent Ella from attending this year.
At this point, 7 C.C Members have contributed to help send Ella to camp and should anyone else wish to join the movement, you are welcomed, wanted and appreciated.
Your donation would help to share the load with fellow members and send a very deserving young girl to one of the best magic programs in the world.
A scholarship to Magic Camp is $1300 Canadian (or about $1000 U.S). We have a number of pledges, but will keep you all updated via Facebook as we receive donation transfers and get closer to reaching our goal.
Should we happen to receive donations in excess of this amount, they will go towards a sponsorship for next year. This donation page will only remain open for 48 hours (WE ARE KEEPING THIS OPEN SO YOU CAN DONATE FOR NEXT YEAR) so if you want to donate please do so sooner than later!

---


August 5th, 2016: Success!
Congratulations! You did it! You not only raised enough money to send Ella to camp... but you also raised extra money for a lucky child to go next year! We have decided to keep the donation link active. Please continue to donate and all proceeds will go to sending another lucky child to Sorcerers Safari Camp next year.
A HUGE Special thanks to everyone who donated. (You know who you are!) Your donation has been a life changing event for Ella. Her family cannot thank you enough!

---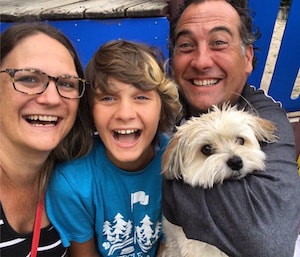 Throughout Ella's experience, Tanya, her mom, communicated with friends and family through a regular blog. You'll notice the phrase that became their family mantra for the situation was: "We Have Already Won".
Ella shares her parents' positive attitude, gratitude and zest for life. Our entire team is amazed and astonished that our members have taken this idea into their own hands, and created a real life miracle better than anything we could imagine.
Thanks so much your help. Ella will have the experience of a lifetime next week - and it's all thanks to you.
On behalf of the Conjuror Community Members
A & A
---
You can find Tanya's blog at this link: https://ellajohnnybluesherosjourney.wordpress.com/2016/01/21/happy-new-year-celebration-pt-2/
You can find Ella on Instagram here: https://www.instagram.com/ella_bella_blue/
Or on YouTube here: https://www.youtube.com/channel/UCAF4L4rIlpbgM0nTO95PmGQ
About Sorcerers Safari Magic Camp: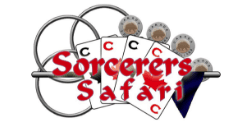 Sorcerers Safari Magic Camp is the only camp of its kind in Canada, located in Haliburton, ON. For one week every summer children are immersed in the rich art of magic and performance. They make life-long friends and create unforgettable memories, all while enjoying the great outdoors. For more about Sorcerers Safari visit www.sorcerers-safari.com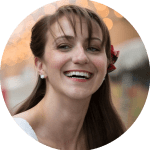 About the Author:
Rosemary Reid is a professional magician, writer, and director and a team member at Conjuror.Community.