Collecting Playing Cards
Collecting playing cards is one of the most fun (and easiest) ways to supercharge your passion for magic! In this informative post, you'll discover 4 Expert Solutions (and powerful tips) on how to start growing your own playing card collection—on a shoestring budget. That means you can experience the thrill and pride of modern card collecting without breaking the bank!
Collecting Playing Cards: News You Need RIGHT NOW
Before we get to the 'meat' of this post, here's big news. If you love collecting playing cards—or want to learn more about it, this is a VERY big week at Conjuror Community.
IN just a few days, we'll host a rare and intimate 'living room lecture' with one of the world's leading experts on collecting playing cards.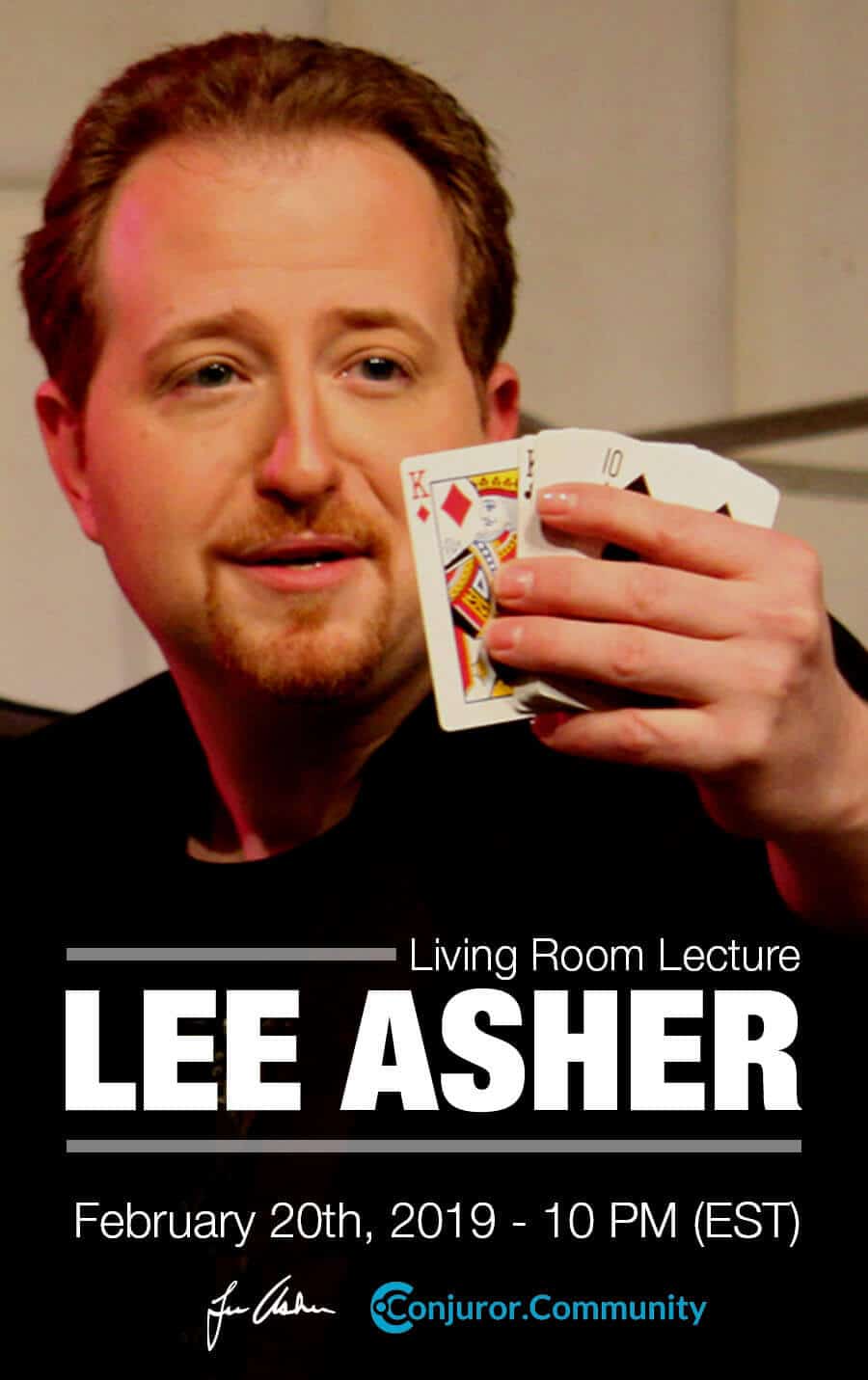 Lee Asher has created more original, astonish and practical magic than just about anyone we know. When he joins us next week, he's going to reveal REAL card magic secrets and miraculous tricks. But that's just the beginning…
We've known Lee for 25 years, and when it comes to collecting playing cards the SMART way, he's always been better at it than ANYONE we know.
And when we go to Lee's home next week for this intimate online event, he's pulling out all the stops! You'll discover the best versions of Lee's most famous tricks—and receive the kind of personal instruction you can't get at ANY live magic event.
But that's just the beginning. To make Lee's debut CC appearance even MORE special, Lee has offered to give an easy-to-follow, mindblowing masterclass on how to make collecting playing cards easy and fun—without spending a fortune!
NOTE: This is the best chance you'll EVER have to learn how it works from a true expert who WANTS to see you learn. Lee's going to make it all easy, and show you exactly how to get started fast, easy and SMART!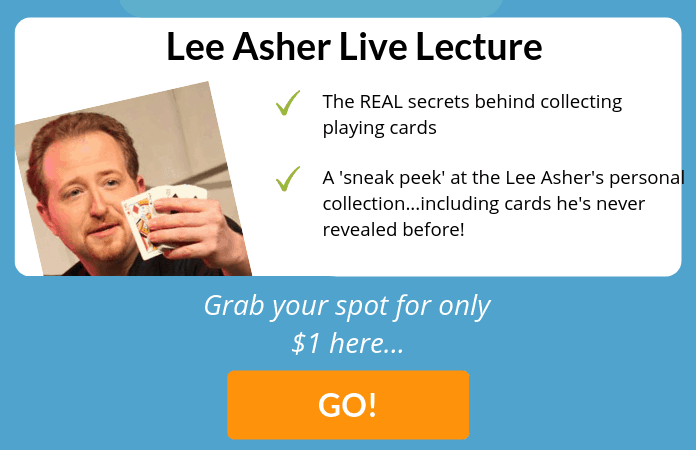 Collecting Playing Cards: What's Hard About That?
---
There are so many incredible, rare and beautiful decks—and so many new ones released all the time—it's almost impossible to know where to begin!
"I've been performing and inventing card magic for 30 years, but when I think about how to begin collecting playing cards—I get intimidated!"
Aaron Fisher
Author, The Paper Engine
When it comes to collecting playing cards, it's hard to know where to start!
* Which decks should you go for?
* Where should you look?
* What kind of budget should you work with?
Most important, how can you learn to spot the REAL values and gems without losing your A**!
If you are paying attention, you can already see how finding out the answers to these questions can lead to A LOT of disappointment and wasted money.
Lee Asher is going to give us a masterclass in just a few days and we HIGHLY suggest you join us. In the meantime, here are four practical tips on how to start growing your playing card collection on a shoestring budget.
Let's get into it…
Tip 1: Do you have a plan?
Tip 2: Do you plan to 'use' the cards?
Tip 3: Why not design your own?
Tip 4: Are you having fun?
(SPECIAL BONUS) Tip 5: Buy TWO of every deck…
Collecting Playing Cards Tip 1: Do you have a plan?
---
Before you get started collecting playing cards, you NEED to have a plan. If you don't, you could end up spending a LOT of money without meaning to…
…and that's NOT how you want your first taste of card collecting to go.
So, before you get started, it's absolutely vital that you make a specific plan on how much money you're willing to spend. If you don't put any limits on your budget, you'll likely get hooked on the 'rush'—and end up blowing insane amounts of money.
NOTE: We've seen this happen in real life. If you're not careful, it will happen to YOU!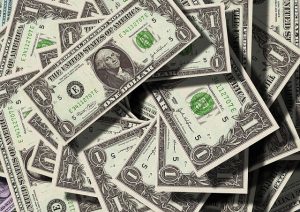 Simply set clear 'ground rules' in advance. Stick to them, and you'll never develop a serious problem!
How much money should you set aside for collecting playing cards? Frankly, this is the kind of question where everyone has an 'opinion'—and some opinions are worth ALOT more than others.
Lee Asher is going to tell us the REAL answer next week—including all the specific info you'll need to find the right answer FOR YOU! Lee's going to break it all down as NO ONE else can. This is the first question we'll ask him—and we can't wait for the answer. And the best part is when you join us for this trip to Lee's living room…
…you can ask him whatever YOU want! You'll get the real answer. No BS and no 'one size fits all' solutions. Lee's going to give us all exactly what we need to know!
Collecting Playing Cards Tip No.2: Do you plan to 'use' the cards?
---
The answer to this question MATTERS. Whether or not you are going to be using the cards will play a very big role in determining what you do with the decks you collect.
Many collectors like to open the cards and use them for anything from magic to poker, or even cardistry. If that's how you like to live, so be it!
But here's the thing to keep in mind…
If you're thinking about getting 'serious' about collecting playing cards, you need to think carefully before you start breaking seals and shuffling decks of cards with legitimate monetary value.
When it comes to pricing—rare and/or valuable cards are most valuable in their unopened, sealed condition. When you break the seal and open the box—the effect on the monetary value of the deck can be brutal.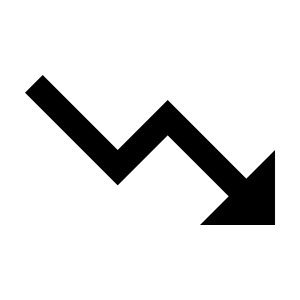 If your intention in collecting playing cards is to sell them later at a profit, you can open them, or play with them—and expect the cards to retain their value as collectibles.
If you are collecting playing cards without concern for their monetary value—open, shuffle and play!
Next week, Lee Asher will show you how to decide if you want to collect with 'reselling' in mind. Lee's going to help us ALL decide how to choose our own unique approach to collecting cards. Bring YOUR questions—and he'll make sure you find out exactly what you need to know!
NOTE: We'll also see select favorites from Lee's Private Collection. ONLY Lee's personal friends get to see Lee's personal favorites. Since we'll be in Lee's Living Room—he'll show us EVERYTHING we'll want to see! If you love cards—it's going to be like a private trip to the VIP room in the clouds! 🙂
Remember, right now, you can see the Lee Asher CC Lecture for just $1!
Collecting Playing Cards Tip 3: Why not design your own?
---
Do you LOVE the 'back designs' on great cards as much as we do? For us, that's a BIG part of the the appeal when it comes to collecting playing cards. When you collect cards—it's like having your own personal art gallery!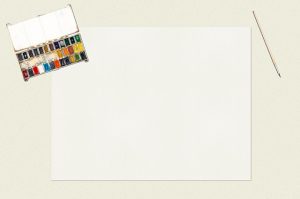 Did you know you can actually design your own deck? You can. And in fact, if you want a deck that's truly one-of-a-kind, this may be the route for you.
You can select designs, commission them or even just select your favorite photo. Of course, if you're an artist, you may simply want to create your own masterpiece with a completely original back design.
CLICK HERE to watch a great discussion with Lee Asher himself on the topic of custom playing cards. (This will give you a taste of the level of information you get when Lee starts talking about playing cards. At Lee's lecture next week—we're planning to take it to a whole new level of awesome.)
If you don't have time to watch this interview, don't worry—we've also included a transcript of the conversation so you can browse it at your leisure. Check it out!
Collecting Playing Cards Tip 4: Are you having fun?
---
Above all, please do make sure you keep in mind that collecting playing cards can be fun. It should be fun. You win some. You lose some—but that's part of the excitement!
We believe the best way to make sure that collecting playing cards STAYS fun is to keep Tip #1 in mind. You need a plan. If you have a clear plan, a clear budget, and you know how to stick to the plan and revise it as needed—you'll have the peace that comes with knowing you're staying on track. And there's nothing like going where you want to go to make ANY journey A LOT more fun.
If you're a CC MEMBER, this post should have your juices flowing in anticipation of next week's big Living Room Lecture with Lee Asher. If you're NOT a Conjuror Community Member, do yourself a big favor…
Take us up on this incredible offer, and experience an entire month of Conjuror Community—including the Lee Asher Living Room Lecture—all for just $1.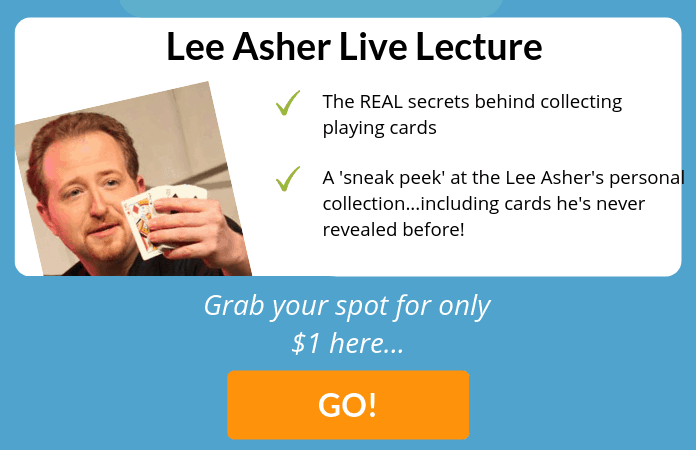 Collecting Playing Cards BONUS Tip 5: Buy TWO of every deck…
---
Yes, you heard us right.
If you can, you should always buy TWO of every deck you invest in.
Why?
Well, remember what we were talking about in Tip 2? Some people might not be able to decide whether or not they are going to be opening and using their playing cards.
So, the simple solution to that dilemma is to buy TWO of each deck. That way, you have one to open and play with as much as you want without worrying, and one to store in a safe place and keep in that 'perfect' unopened condition.
Of course, not EVERY deck will be available to be bought twice. Some are just too rare for that. But you'll be surprised at just how simple it can be to secure an extra copy of each deck you buy, so we would definitely recommend giving this tip a go!
This kind of practical solution to your card collecting problems is exactly the kind of advice Lee Asher is going to be giving out next week at our exclusive Live event.
The good news is, YOU can attend this event for only $1!