DeLand: Mystery and Madness is a 600-page full color volume that reveals, for the first time, the magic and controversial life of the 'mad genius of card magic' Theodore DeLand.
Here's our complete review…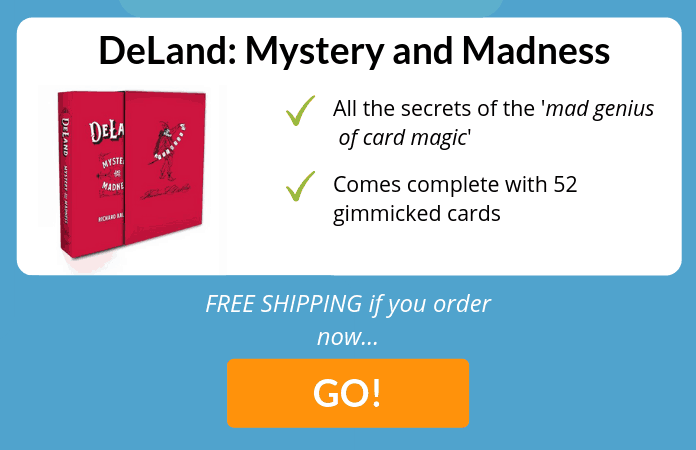 Just like Adam says in this review, this book comes with 52 gaff cards. When you buy this book you'll discover over 200 tricks in total (worth $292 if you bought them separately!)  

Here are our 'top picks' of these:
---
This is one of Adam's favorite tricks—because it combines both mentalism and magic in a startling display. First, your spectator simply THINKS of a card. Then, the exact card they thought of vanishes—and reappears in your pocket.
---
Most magicians dream of performing the classic 'Cards Through Table' effect but think it's too hard. In this book, you'll discover that the gaff cards make it so easy—you can do it instantly!
---
The original collectors plot—made even easier. It's never been easier to look like a card magic professional!
---
One of the most visual montes of all time.  Two cards change places in an instant—and best of all, it requires absolutely NO skill.
---
Known by most magicians as 'Skinner's Monte,' this is the exact trick magicians like Harry Anderson and Doug Henning used to build their reputation as card magic masters!
---
Four Kings transform into the Four Aces in the spectator's hands! The method WILL surprise you (and fool everyone else)
---
Not one, but THREE of DeLand's most infamous gaffs.  
---
A single card, held at your fingertips, SLOWLY changes into another card.  You can do this as slow as you like, with the spectator right there…and they won't see a thing!
---
The 'perfect' closer—using only three cards, you make them visually trade places. Ends completely clean!
---
One of DeLand's most classic inventions—a marked deck system like nothing you've ever seen before.
---
Using this brilliant marked deck, you'll ALWAYS know which card is on top or bottom.  The uses are only limited by your imagination!
And more…
https://conjuror.community/deland-book