Master Magician Tom Frank comes back to Conjuror Community!
When we announced that magician Tom Frank is coming to CC next week for the 'Epic Living Room Lecture' on April 25th, the response was so big, we had to upgrade our software.  Based on the tremendous 'buzz' around Tom's incredible lecture—we're not surprised!  (In case you didn't hear… Tom spent the better part of the year touring the world and lecturing to magicians all over!)
If you haven't seen master magician Tom Frank live before, then you need to know: this will be a 'no holds barred "teach-a-thon". Tom doesn't hold back, and and you'll experience more great magic than you can imagine.  You'll also get something even harder to find: uncensored wisdom from a true master who has truly seen it all!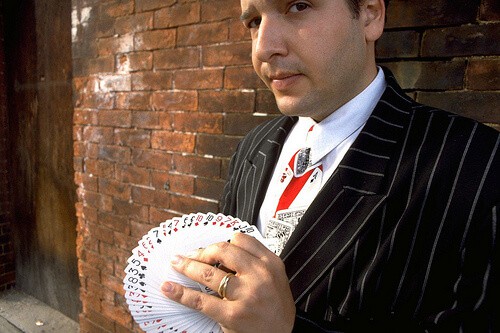 What kind of magic do YOU want to perform?
At the Epic Living Room Lecture, you'll discover practical miracles with Cards, Coins, Bananas, the Linking rings, Cups and Balls and more. Every trick has been tested and proven over twenty years to play perfectly in all kinds of situations. You'll discover:
Close-up Magic that Plays BIG – so you'll have the miracles you need to work any cocktail party (or social situation) like a top professional.
Stand-up and Stage Effects that Pack Small – so you'll be able to get the attention—and hold it—with astonishing magic you can see from the very back row.
Corporate Event Magic – Tom will share the tricks, methods and strategies you need to ensure your corporate clients are thrilled with your performance.
Busking and Street Magic – As a master magician Tom Frank has made a reputation as one of the most consistently profitable street performers we've ever seen.
Tom Frank's Magical Background
Decades ago, Tom studied with the great Street Magic Master Cellini, and since that time, Tom Frank has become one of the "go-to" guys for busking.  Check out this video from 1993, showing Cellini work a crowd in Cincinnati, Ohio!
Cellini passed away on November 23rd, 2009, and inspired many magicians to follow in his footsteps.
Tom Frank's Tricks
In this one-time CC Live Event, Tom will share the exact tricks, psychology and strategies he uses to work the streets and wow crowds… or entertain a crowd of 2000 at a corporate event.  Because Tom Frank has always loved ALL kinds of magic, you'll learn:
Industrial Strength Aces – This isn't just a 'trick'—it's a completely stunning, easy-to-do, miracle card act you can do at a moments notice!
Self Made Miracle Worker – Workers everywhere are calling it 'The Easiest No-Palm Signed Card to Wallet of All Time'!
Yes We Have No Bananas Today! – so many surprises, gasps and laughs—you'll never leave home without it.
Silver Symphony – A dazzling display of visual coin magic you can perform close-up, on stage or anywhere in-between.
Tom's Professional Linking Rings – People call this the 'best trick of all time' for a good reason—and at Tom's lecture, you'll find out why.
Cups and Balls Master Class – Discover the surprises—and secrets—Tom has uncovered over a lifelong love affair with the grandest miracle in magic. If you have never seen Tom Frank do the Cups and Balls… watch this video.
And that's just the beginning. This isn't just a 'show-and-tell'. It's a PARTY. When Tom makes an appearance….anything goes!  You'll have unprecedented access to a master who's ready to share anything—and everything—you want to know!
Tom's Secret Sauces
Tom's a true professional. At this event, he'll also share two Secret Strategies that brought the house down during this recent Hit Lecture Tour.  Whether you are a professional magician—or you just love great magic, Tom's thinking here will fascinate and delight you:
1) The Pitch
Discover the secret 99% of professional magicians DON'T know about how to turn a sure-fire profit at every public performance (street, stage or anytime!).
Tom will show the easiest sure fire methods for making real profits from 'magic merchandising' after the show. The biggest magicians in Las Vegas do it—and as you'll see, there's a VERY good reason that you should too!
2) The Wizard
This was the breakout hit of Tom's recent tour. When you see how Tom pitches the Wizard Deck, you'll be thrilled at how easy it is to create income—and true astonishment—at the same time.
Best of all, you'll see a true master at work—and it's thrilling!
Get Ready for Tom Frank!
There's going to be so much great magic at this event—and so much FUN—this promises to be a one-of-a-kind experience you don't want to miss.
By the way… This one time event is exclusively for Conjuror Community Members.  And right now, you can get your first month of Conjuror Community for just $1.
(Just $1 gets you total access to the Tom Frank Epic Living Room Lecture - and over 160 Exclusive Lectures, Workshops and Video Training Plans in Conjuror Community.  And just so you know, there's no catch! We're the fastest growing magic club on earth... and after seeing one of our Live Events, most of the time, folks want to see more!  And if not, no problem. You can cancel anytime!)