Michael Close Does Miracle on Live TV
Michael Close is truly amazing! I don't often share tricks I just saw on youtube, but in this case, I have to make an exception. This is a clip of my friend magician Michael Close—around 1997—doing a miracle that just made my day. Watch it for yourself. I bet it will make yours too!
Michael Close Joins Conjuror Community
Michael Close is one of magic's true living legends—and at this event, participants will have unprecedented access to ask questions, and get the kind of answers you can ONLY get from a true master in his own home.  This unique intimate magic session is only available for Conjuror Community Members. But here's good news. We want YOU to join us…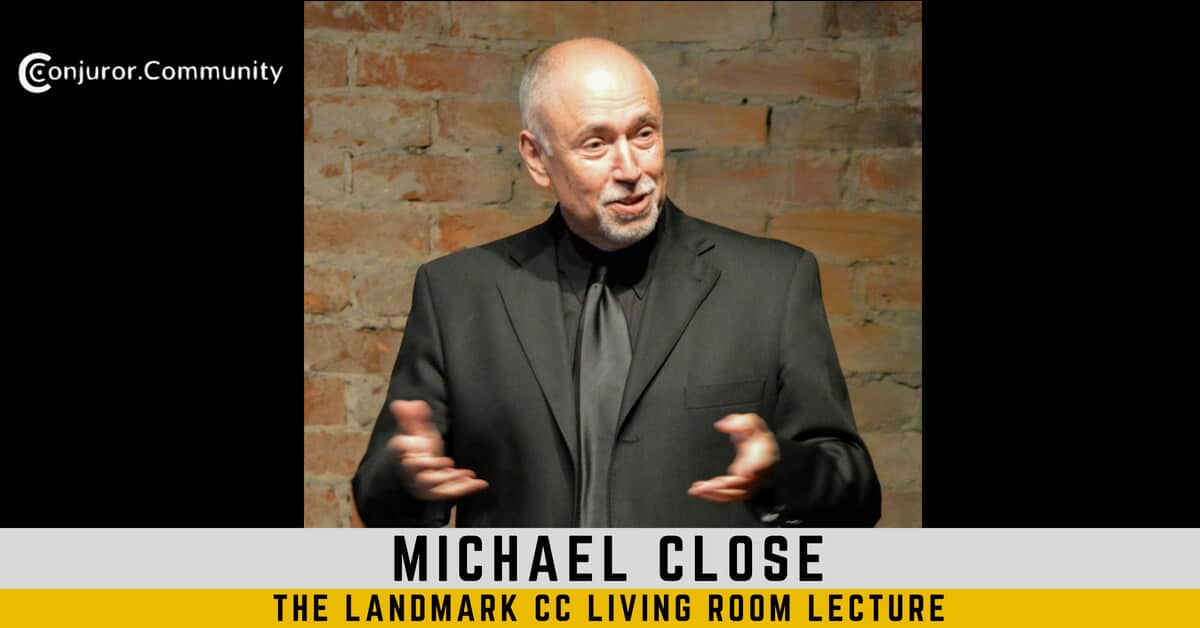 Right now, you can get a full month of Conjuror Community—including the Michael Close CC Living Room Lecture—for just $1.  CLICK HERE to watch for $1
Get ready for an intimate evening filled with astonishing miracles. You'll discover powerful, professional magic you can use to thrill and and entertain—all of it practical, real world magic your audiences will LOVE. Get ready to discover:
Memorized Deck Demystified!
In this Mastermind Workshop, Michael cuts through the chaos—and reveals insights that will save you time, frustration and head you down the path to mastery!  You'll discover:
How to Choose Your Stack – so you know what to do BEFORE you decide, and how to make sure you're THRILLED with your choice for years to come!
NOTE: 90% of the time, even passionate magicians make this decision without the information they need to succeed. This one topic will save you years of frustration!
Strategies for Memorizing a Deck – Michael will share a variety of ways to memorize a deck, so you can pick the best one for you.
Secret Practice Drills – Michael reveals little known tactics that get superior results quickly. He's going to share them all—and you'll be thrilled by what you discover.
Killer Tricks and Routines – Chosen and designed by Michael especially for the memdeck newbie—so you can turn your new tactics into real-life tricks—and get your show on the road!
Michael will lay out the whole path—so you know each and every step to take! 

Workers…Demystified!
In Demystifying Miracles, Michael will astonish and entertain you. Here's just a few of the professional grade miracle routines you'll discover:
The Wishing Trick

– Looking for a miracle 'thought-of-card' revelation strong enough to close your set? Look no further!

The Impossible Search Engine

– Your spectator thinks of ANY card—and performs the miracle themselves…

in slow motion!

 

Red-Blue Mama Fooler

– Michael will also lead a complete masterclass on this easy-to-do professional card miracle. You'll have your audience gasping in amazement.
But that's just the beginning.  We designed this Special Event to offer great tricks—and even more…to fuel your path to new heights of astonishment.
You'll also experience:
The Magic Ideal…Demystified!
Have you ever tried to read a classic book on 'magic theory'—only to come away with a headache? You'll discover The Magic Ideal – a simple, proven path to unlocking these mysteries—so you can transform 'theory' into show-stopping miracles.
Penn & Teller: Fool Us…Demystified!
For the last several years, Michael has worked (with our friend the Great Johnny Thompson) as a chief magic consultant on the hit show Penn & Teller: Fool Us.
Michael will share behind the scenes info you can't find anywhere else. What does it take to get on the show? How do you make magic that really 'works' on TV?  
Penn & Teller: Fool Us is the best magic on TV in past decade. With Michael, we'll explore WHY that is—and discover the secrets that drive the world's most astonishing magic.
Demystifying Naturalness
The Professor, Dai Vernon, often admonished magicians to "be natural."  But what does that really mean?  Michael will make this 'advanced concept' easy-to-understand with clear language and examples you can use immediately.
This promises to be one for the books. You can join us live, or watch anytime. And right now, you can get total you can get a full month of Conjuror Community—including the Michael Close CC Living Room Lecture—for just $1.